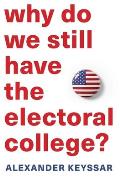 At the London School of Economics blog, Kyle Scott reviewed Prof. Alexander Keyssar's new book,
Why Do We Still Have the Electoral College?
Dr. Scott wrote:
Throughout the book, Keyssar draws upon congressional testimony, third party research and news accounts to debunk common objections to electoral college reform. Supporters of the Electoral College argue that its reform would abandon the ideals of the US founders, disadvantage smaller states, create a rural/urban divide in the electorate, disadvantage minorities living in poor urban communities and violate the republican (as opposed to democratic) ideals embodied in the US Constitution. States' rights and federalism would also be threatened by electoral college reforms.

The author provides convincing counterexamples and enough evidence for the reader to conclude that, while reform would be a departure from the norm, it would be neither an unprecedented departure nor a stark break from the past. . . .

Seven of the seventeen amendments ratified after the Bill of Rights have increased representation and removed barriers between the populace and elected officials, and five of the seventeen have dealt directly with the office of the president. If we don't count the 18th and 21st (concerning the prohibition of alcohol and its repeal, respectively), one-third of all amendments ratified after the Bill of Rights have dealt directly with the office of the president and more than a third have increased representation.

The reader is left to wonder what is unique about the Electoral College that separates it from amendments like Women's Suffrage (19th), Direct Election of Senators (17th), Presidential Tenure (22nd) or Abolition of the Poll Tax Qualification in Federal Elections (24th). All these amendments were controversial and had to overcome entrenched interests — including those with racially discriminatory motivations — in order to be ratified.
While praising Keyssar for "original insight on how racism can be a motivating factor in preventing reform," Scott concludes that it's unfortunate that the book didn't compare the stalled attempts to reform the Electoral College with the successful campaigns for those other amendments.
But I'm at a loss to think what "racially discriminatory motivations" drove opposition to the 22nd Amendment limiting Presidents to two terms in 1947 to 1951. Likewise, the 17th and 19th Amendments certainly increased representation, but within a system already permeated with racial discrimination.
It strikes me that the most fruitful comparisons would be to the 23rd Amendment, extending the Presidential vote to citizens in the District of Columbia (1960-1961, opposed in the Southeast), and the 24th Amendment, barring poll taxes (1962-1964, largely opposed in the Southeast). The former even had a direct effect on the Electoral College—but of course also worked within that system rather than making broader changes.