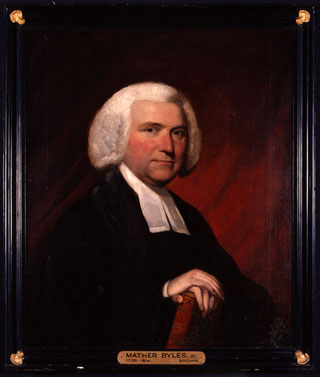 On Thursday, 21 September, Old North Illuminated will host a virtual talk by G. Patrick O'Brien on
"'This Perilous Hour of Trial, Horror & Distress': Loyalist Exile and Return."
The event description says:
Between April 1775 and the early months of 1783, more than 75,000 colonists fled the upheaval of the Revolution for the protection of the British Empire. Nearly half of these refugees, including many New Englanders, landed on the rocky shores of Nova Scotia.

The most prominent of these exiles called themselves "loyalists," a label they fashioned to accentuate their own unwavering fidelity, and the broader collective's shared dedication to maintaining Britain's empire in North America. . . .

Concentrating on a few loyalist families from the greater Boston area, including that of Rev. Mather Byles Jr., the rector of Old North Church until 1775, Dr. G. Patrick O'Brien of the University of Tampa will explore what it meant to be a loyalist during the American Revolution.

The talk will pay special attention to how marginalized loyalists, including women and enslaved people, grappled with the hardships of wartime exile and the role these figures had in bringing families back to their American homes after the war.
It's notable that although the Rev. Mather Byles, Jr. (shown above), left with the British troops, his father, the Rev. Dr. Mather Byles, Sr., remained in Boston, as did his
two half-sisters
. The Boston Byles family continued to profess loyalty to the king, even in the new republic. While some Loyalists came back to the U.S. of A., or tried, these Byleses never left.
G. Patrick O'Brien is professor at the University of Tampa. He is working on a book about the experiences of loyalist women and families during the Revolution, their exile in Nova Scotia, and the social networks repatriating loyalists created between British Canada and the United States.
This online event will run from 7:00 to 8:30 P.M. Register for the link
through this Eventbrite page
; make a donation of of any amount to Old North Illuminated to support the preservation and interpretation efforts at Old North Church in the North End.