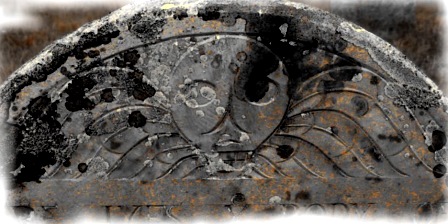 In 1991 Prof. Cornelia Hughes Dayton
published a paper
titled "Taking the Trade: Abortion and Gender Relations in an Eighteenth-Century New England Village" in the
William and Mary Quarterly
.
In 2007 students at the University of Connecticut
created this website
exploring the same case, using Dayton's analysis, transcriptions, photographs of the sites involved, and more. (This may have grown from the similar work of Prof. Larry Cebula or it may have been a parallel effort.)
The "Taking the Trade" paper and website examine a dispute in colonial Connecticut. In 1742, Sarah Grosvenor of Pomfret ended an unwanted pregnancy by inducing a miscarriage, having used both medicinal and surgical means, but she died two months later.
Grosvenor's family complained about the man who had impregnated her, Amasa Sessions. Many colonial New England men in that situation married their sexual partners and went on to have more children, however grudging the partnership was. In contrast, Sessions pressed Grosvenor to take an abortifacient provided by Dr. John Hallowell of Killingley.
In 1746, Sessions and Hallowell were indicted for the reckless murder of Sarah Grosvenor—but not for trying to induce an abortion. In fact, Grosvenor's sister had also helped her end the pregnancy, but she was not indicted. The surviving documents don't offer answers for all the questions they raise, but they make clear that eighteenth-century New Englanders knew about abortion and viewed it primarily as a private matter not involving the government. Providing an
unsafe
abortion was potentially criminal.
A crucial aspect of how Sarah Grosvenor and her contemporaries understood her situation was the "quickening"—the moment when a pregnant woman can feel the fetus move inside her body. Only then, according to the thinking of the time, did a soul enter the fetus, making it a person. That was usually about twenty weeks into a pregnancy.
The U.S. of A. is currently in a heated discussion about Justice Samuel Alito's draft decision upending American women's right to abortion, federally guaranteed for almost half a century. That draft claims there is a longer history of laws against abortion.
However, as Prof. Holly Brewer has pointed out, all of the draft's so-called legal precedents from the seventeenth and eighteenth centuries ban abortion procedures only
after
the quickening. Other cited laws banned abortion methods on the grounds they were unsafe for the woman, not because they ended her pregnancy.
This is a problem with "originalist" jurisprudence: determining modern law based on history requires actually understanding that history in all its nuances, not just plucking out details that suit the result the judge desires. As the "Taking the Trade" paper and website show, colonial Americans didn't view safe abortion as a criminal matter.