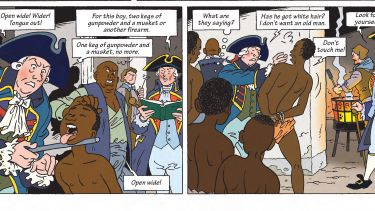 I've
written before
about
John Gabriel Stedman
(1744–1797), a mercenary of British and
Dutch
parentage who volunteered to be an officer in the campaign to fight Maroons who had escaped from
slavery
in Surinam.
In 1796 Stedman published a memoir about that experience, which the publisher augmented with horrific illustrations by
William Blake
and other
artists
.
Stedman's diary shows him to have been fairly active in exploiting enslaved people, especially on the
sexual
side, but also caustic about the institution. He carefully edited the memoir to be more acceptable on both counts to the British reading public at the time. Nonetheless, it became an important document for British abolitionists.
Among the people Stedman encountered as an officer was a recently kidnapped African
boy
named Quaco, loaned to him as a personal servant. The Dutch author Ineke Mok reconstructed that boy's life for a graphic novel titled
Quaco: My Life in Slavery
.
Eric Heuvel drew the art for this comic using the "clear line" style that American readers probably know best from Hergé's
Tintin
adventures. But here the adolescent crossing the globe after being enslaved. It feels incongruous to me at first, but Heuvel has reached a young international audience by exploring World War II in similar style.
Quaco: My Life in Slavery
was published in Dutch in 2016. Recently the University of Sheffield's School of Languages and Cultures made a collective student project out of translating the book and its teaching materials into English.
This
article from Sheffield
offers some sneak peeks of the project, and the book is offered for sale through
this website
.