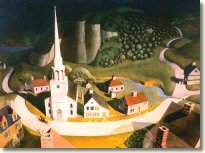 Yesterday I discussed the appeal of narrative history that offers the same ingredients as a good fictional story: protagonists, goals, obstacles, resolution through internal forces. The protagonist can be a historical figure (or several) trying to achieve something, or a historian trying to answer a question. Either way, such a narrative structure turns a sequence of events into more than "one damned thing after another," as Arnold J. Toynbee once characterized some other historians' work.

The problem with a historical narrative is that it might not reflect real life. We all know that we do a lot of things every day because of circumstances, habits, or whims, not because we approach life with clear and unconflicted goals. We've all seen plans work out, or not work out, because of unforeseen outside forces or simple chance. We all experienced social, technological, or environmental forces that can overwhelm one individual's ability to affect the world—what historians call "agency."

Yet we still like narratives. We humans are pattern-spotting animals, and sometimes we even impose patterns on life to make it more understandable. A narrative is one such pattern, and a pleasing one. But that understanding of life may get in the way of real comprehension.

For example, the history of Paul Revere's ride on 18-19 Apr 1775 is an exciting narrative. It offers:
Henry W. Longfellow
made Revere's ride a popular legend by squeezing out lots of the complexity.
David Hackett Fischer
wrote a much more detailed, accurate account in his own
Paul Revere's Ride
, noting as he did so how the event had what Aristotle called "dramatic unity"—it took place within a relatively compact space and time. I myself recounted a Revere-centered version of the story for
Boston National Historical Park
last April.
And yet,
as I've
argued
, Revere's ride may not have really affected how the rest of 19 Apr 1775 turned out. Other warnings got through. The
militia
in
Lexington
and Concord had started to assemble even before Revere and his colleagues arrived, and spent hours milling around. The British troops
weren't really hunting Hancock and Adams
.
Once those troops reached Concord, furthermore, the militiamen massed outside town weren't sure how to respond; they spent more hours watching and debating, and pulled back after the first engagement at the North Bridge. Even after the shooting really began along the battle road, it's not clear what the provincials hoped to accomplish. If they had cut off the regulars from Boston, would they have known what to do with them?
And then there's the larger picture of whether what Revere did on 18-19 April, or even the whole Battle of Lexington and Concord, changed the split between Britain and its North American colonies. Was war bound to start somewhere fairly soon? (Had it
already started
in
Portsmouth
?) Was the political and economic conflict within the British Empire too far along to be patched up? Exploring those questions gets us into the realm of large social movements and economic trends, beyond the level of crowd-pleasing narratives.
And as for the alternative narrative form of historian as investigator, diligently gathering evidence to answer a stated question, anyone who's done research knows that's even more of a fiction. You determine the questions as you go along, evidence turns up in the most unhelpful order, and the end of the investigation is defined less often by your goals than by your deadlines.
Myself, I like narrative history. I like reading it, and when I plan a talk or article I almost always find myself thinking in narrative terms. I happen to believe in human agency, and in the meaning that accumulates from the sum of individual lives. But at the same time, I worry that narrative history can be a snare, a pleasant illusion of how events fit together that hides a more complex, messy picture.
(The image above is Grant Wood's rendering of Paul Revere's midnight ride from the
Grant Wood Gallery
.)